School Info
Kyra M Aizstrauts
Elementary Principal
kyra.aizstrauts@k12northstar.org
479-6963 x102
Address
554 Loftus Road
Fairbanks, AK 99709
School Hours
Students: 8:45 am - 3:15 pm
Office: 7:30 am - 4:00 pm
Announcements & Upcoming Events
4th Grade State Testing (Science)
Revised 2014-15 Calendar
The 2014-15 calendar was revised in response to an inclement weather closure.
The last day of school for students has been adjusted to Thursday, May 21.
School calendars are available for subscription in any preferred calendar program.
To subscribe to school calendars:
• Visit the Calendar page on your school website
• Click boxes to customize calendar feed
• Click iCal to generate customized calendar feed URL

5th Grade State Testing
Date:
Wed, Apr 1, 2015 – Thu, Apr 2, 2015
3rd Grade State Testing
Date:
Mon, Mar 30, 2015 – Tue, Mar 31, 2015
Student in the Spotlight: Alexis Lawrence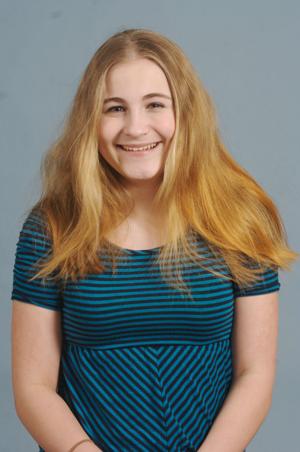 Sixth-grader, University Park Elementary School
Alexis Lawrence is a standout student artist. Though some artists prefer to choose a single medium or instrument or genre at which to excel, Alexis feels no such restrictions. She receives high praise from her choir teacher and band teacher as well as her home-room and advanced math teachers.
All her teachers describe her as a hard worker, saying her enthusiasm is contagious and that she is a joy to teach. Teachers say that in addition to her strong work ethic and sunny attitude, Alexis possesses a special creativity and talent for artistic expression.
"Alexis has a good eye for color and a style that is her very own," one teacher says. Another teacher says Alexis' knowledge of proper singing sets a high standard for the rest of the choir.
Read full article
Board of Education // Community Survey
The Fairbanks North Star Borough School Board and School District are embarking upon the development of a long-term strategic plan for the district. This strategic planning initiative will provide the district with a road map and clearly defined priorities to help ensure district students receive the best education possible.

A key ingredient to this process is community feedback. Throughout the month of March, the school board will collect input via an online community survey. This survey is designed with strategic planning in mind and your perspective will inform the decision making greatly.
Please take 10-15 minutes to complete the survey – your input matters to the overall success.
Upcoming Testing Dates, grades 3-6
All of our 3rd-6th graders will participate in the State's computerized standard assessments, AMP (Alaska Measure of Progress). Every grade has 2 days of testing, one day of English Language Arts and the second day for Math.
3rd grade: M-T, 3/30-3/31
5th grade and Mobley: W-Th, 4/1-4/2
6th grade: M-T, 4/6-4/7
4th grade: W-Th, 4/8-4/9
Student attendance is crucial for these assessments. This year's test results will the baseline to measure future growth. For information can be found at: http://education.alaska.gov/akparentscommunity and at: http://education.alaska.gov/akassessments
UPK 4th graders will aslo be participating in the State Standards Based Assessment in the area of science on Friday, 4/3.
Yes, indeedy - testing season matches spring training :-) Go Falcons!

Student Artist
Congratulations to the following student artist whose work was displayed at Bear Gallery at Pioneer Park for the month of March.
Will Ackerman, Mrs. Stockbridge's kindergarten class
Tukkayak Parnell, Mrs. Dubowski's first grade class
Astrid Anderson, Mrs. Wallingford's sixth grade class

Congratulations Kira & Alexis!
Each year the U-Park staff selects a Student of the Week and a Student Artist, and it's never an easy choice with so many great kids. This year, Kira (5th Grade) was chosen as Student of the Week and Alexis (6th Grade) was chosen for Student Artist. Keep an eye out for an article in the Newsminer for both of these deserving girls.
Congratulations Hunter!
Alaska Measures of Progress (AMP)
Alaska Measures of Progress (AMP) is the new state assessment for students in grades 3-10. AMP replaces the Standards Based Assessment (SBA), which was administered for the final time in April 2014.
AMP is computer-based and will be administered for the first time in spring 2015. Learn more about the new assessment and technology practice tests at the Alaska Assessments website.
Students in grades 4, 8, and 10 will take the Alaska Science Standards Based Assessment on April 3, which remains a paper and pencil test.
Supply List, 14-15 School Year
Buy the items while the sales are on! If you run into a snag financially or can't find the items, just let a staff member know - we will be able to help you.
Keeping Kids Safe in the Digital Age
The link below will take you to an excellent site where you can learn more about keeping your child safe in an increasingly connected world.
Drive safe!
Drive safe! Student safety is in the driver's hands. Leave the house early enough so you are not rushed. Stay in line while flowing through the parking lot to the "stop, drop, and go" curb. Pull up, as far as possible, while wishing your child a good day. Be cautious as you drive to and from school. Children are precious!